2021 Book Gift Ideas – TulsaKids Magazine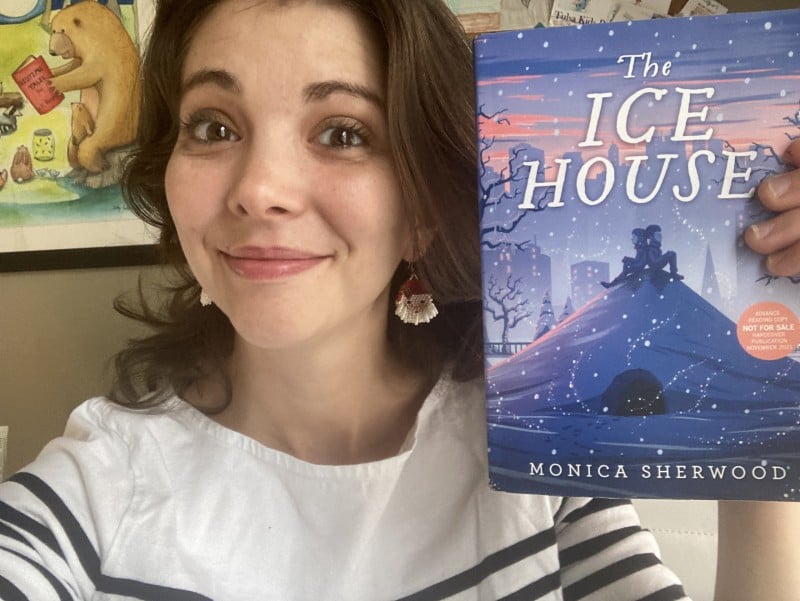 Wwinning another year means wrapping up another Goodreads reading challenge! So far I'm 57 over 50 pounds. The list of books I've read this year includes 10 by Jason Reynolds (working on number 11!) And 16 romance novels. This is what happens when you work on the "Bridgerton" series and you discover the genre of the convention-romance genre 😉 I still don't do a good job of starting, let alone finishing, non-fiction books . My list consists of mostly intermediate, YA, and easy-to-read adult literature. But it has certainly been an enjoyable year of reading. So I wanted to share a few highlights from my list, as well as a few favorites that we discovered with Joss this year, if you're looking for some inspiration for gifting books!
Posted on April 13, 2021; Recommended for ages 8-12 (but adults can also enjoy it!)
I discovered this book at the central library under their "new" table outside the children's area. One of the reasons I chose it was because I had recently finished reading Aiden Thomas' "Cemetery Boys", a 2020 YA book about a Latinx transgender teenager from a brujos and brujas family. . Put simply, the Brujas have healing magic, while the Brujos can help free souls so that they are not tied to the earth, where they will eventually lose the last of their humanity. Yadriel is determined to prove he's a brujo, and the story starts from there. Also recommended – the recommended ages for the book are 13-18, so it is aimed at an audience older than "Cece".
Anyway, "Cece Rios and the Desert of Souls" also takes place in a setting with wizards and wizards. So I was interested to read a different take on it. In the village of Cece, it is a crime to become a brujo or a bruja. To do this, you must capture the soul of a criatura – creatures that her village tries to keep at bay. But Cece doesn't think criaturas are necessarily as dangerous as everyone thinks. However, when a criatura captures her sister, Cece decides to save her, which means becoming a bruja.
Cece has to fight a lot of opposition to do what she thinks is right. In addition, all her life she was viewed as "different" and "inferior", especially compared to her older sister. So she finds a lot of courage along the way. And I really loved the way his friendships developed with different criaturas.
Posted on November 16, 2021; Recommended for ages 8-12
This book has arrived at our doorstep at TulsaKids. The pandemic meant, among many other things, hardships for the publishing industry. But gradually, we started to receive more advanced copies of future versions. Yes!
"The Ice House" is incredibly timely. The premise is that an unexpected and prolonged global winter freeze keeps everyone inside. School has gone virtual (what ?!), only essential workers drive, etc. The frost lasts for months, until spring, and when it ends is a matter of popular debate.
The mother of the protagonist Louisa lost her mother at the onset of the frost and mourns her deeply. She has stopped creating art and has no plans to return to glassblowing even after the freeze has ended. Louisa's friend and neighbor's father falls on ice at the beginning of the novel and he loses his memory, also creating a sense of grief for their family. Together, Louisa and Luke try to find a way to help things get back to normal, both in their own family and in the world at large. There are some unexpected elements of magic and you have to suspend some disbelief, but I enjoyed it overall.
While "The Ice House" was good, I had also just finished another book on grief, "The Thing About Jellyfish" by Ali Benjamin, which was a finalist for the National Book Award. (Reading ages 10 and up) And of the two, "The Thing About Jellyfish" was the stronger track.
Anything from Jason Reynolds
The reason I read so many Jason Reynolds books this year is that 1) he's an amazing writer and 2) I interviewed him for TulsaKids and wanted to feel prepared! (I was so nervous anyway, but it was a career highlight for sure.) I would be hard pressed to recommend a single one of his books because you really can't go wrong! Joss and I read "Miles Morales: Spider-Man" together, and he enjoyed it, even if it's really for a little older audience (YA). The Track series is great (recommended from 10 years old); I think the whole series would make a great Christmas present! (You can usually find them along with several other Reynolds books at the Eleanor Bookstore!)
Jason Reynolds' title that I'm most passionate about right now is "Stuntboy: In the Meantime". I'm planning on having this for Joss for Christmas. It was just released in November 2021. In the interview, Reynolds said that was his response to Captain Underpants. Something fun for the kids, irreverent – but with depth too. I think we're both going to love this one.
Posted September 28, 2021; YA
First of all, don't read this if you haven't read the first book in the series, "A Deadly Education". And maybe don't read it if you absolutely hate jaw-dropping cliffhangers! You can always wait for the third book to come out next year, ha. Either way, this is a great option for people high for example in Harry Potter, who like the idea of ​​a school of magic. Only in this case, the magic school is full of creatures that want to eat the students, and there is absolutely no adults present. Children must learn to survive as best they can. On graduation day, students bring their years of knowledge to the graduation hall, which is teeming with monsters. If you do, you graduate. If you don't, you are dead. It's INTENSE.
I have yet to read a book by Naomi Novik that hasn't really blown me away. In the past, I think I've picked one or two, thinking, "Wow, that's a long time… I hope I can get through this. And then you're so drawn, it's over before you're ready. Specific recommendations include "Spinning Silver", a story from Rumplestiltskin and "Uprooted", a story from Beauty and the Beast.
Posted May 18, 2021; Romance
Not sure if this was my favorite romance of the year, but if you're a Great British Bake Off fan like me, this one is a lot of fun. Because it's basically Bake Off, adapted for a romance novel. The judges and the host have different names, but the setting is so familiar. I'm not going to lie, I was delighted this book was among NPR's Top 100 Books for 2021 because I had only read a few titles on the list! So it was a relief to see something familiar!
If you find out that you like love books inspired by reality TV shows, you can check out "The Charm Offensive" by Alison Cochrun. It was released in September 2021 and revolves around a (terrible) "Bachelor"-inspired show.
Read with Joss
It was great to get into longer chapter books with Joss this year. Although he doesn't have homework, we have to read together for twenty minutes a day, so that's the majority of our bedtime routine. Recently, he discovered Rick Riordan's "The 39 Clues", an action / adventure series that follows two children around the world as they are forced to fight against their ugly parents. They are slightly intense, but with a lot of humor to take the tension away.
We also loved reading the two Minalima Harry Potter editions now available. He's been so interested in Harry Potter lately, and I think the wonderful artwork and interactive elements in these books have certainly helped with that. There are several typos in the second one, which is annoying, but they still look good.
Picture books
If you're looking for new books for young readers, check out these 2021 recommendations from TCCL Librarians! Plus, KidTimeStoryTime is a great way to find books. Joss listened to "On Account of the Gum" at school, insisted on listening to it again at home, and now we've listened to SO MANY books through KidTimeStoryTime. Yes, it's screen time, but at least it's the books! And a lot of titles that I've never heard of.
A few final things. 1) Most of these books I read via eBook thanks to Tulsa City-County Library. Downloading the Kindle app on my phone is still one of the best decisions of my adult life 😉 2) I've logged into Amazon all along because it's easy and just so you can get a quick look at books, but please check with your local bookstores before purchasing! Local favorites include the Eleanor Bookstore, Fulton Street Books & Coffee, Magic City Books, and Whitty Books. All of them offer online shopping. Eleanor's Bookshop offers a particularly incredible selection of picture books through the YA titles. I always end up buying myself a book (or two) from the YA section when we visit. And Joss never has a hard time finding a book (or two… or three…) he needs.
What have been your favorite reads from 2021 so far? Do you offer books for Christmas, if so which ones? Let me know in the comments!
---