A novel for teens focuses on the WWII Nazi submarine attacks along the east coast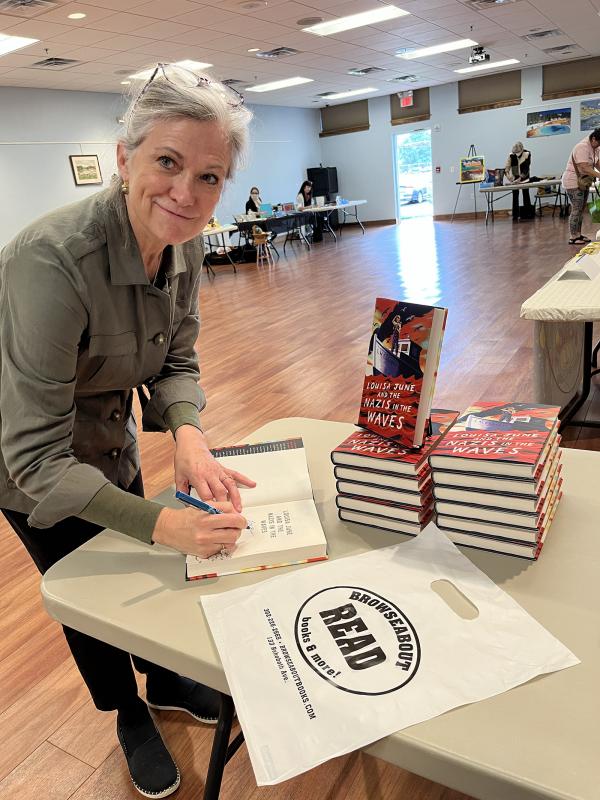 Best-selling author LM Elliott signed books and chatted with young readers about her 12th and final young adult novel, 'Louisa June and the Nazis in the Waves', at the Sussex Children's Book Festival held on 14 May at the Bridgeville Library.
Elliott's carefully researched historical fiction presents a rarely explored aspect of World War II and shines a light on the chilling need for concrete watchtowers erected in Delaware during the war.
A few days after the Japanese attack on Pearl Harbor, Hitler also declared war on the United States and launched a "wolf pack" of U-boat submarines on the East Coast. Their mission was to torpedo as many American freighters carrying fuel, supplies, and food as possible. They usually attacked in the dark of night, without warning. America was completely unprepared.
The first two shipwrecks occurred in January 1942, just off Cape Cod, Massachusetts, and then Long Island. NY In March, five Nazi submarines sank an average of one ship a day along the US coast, sending tons of valuable supplies to the sea floor, leaving miles of spilled oil and searing waves, throwing limbs from crew in the ocean, survivors often adrift for days before being found.
The historical events of the novel are inspired by a particularly brutal and tragic sinking of a tug just off the eastern coast of Virginia en route to Delaware Bay. Louisa June loses her 17-year-old brother and must embark on a perilous journey, seeking to help her grieving parents and find a way to fight the Nazis herself.
Rehoboth's Browseabout Books has signed copies available for purchase.
Elliott was a magazine reporter in Washington, DC for 20 years before becoming a writer of historical and biographical fiction. Her novels explore a variety of eras and are written for a variety of ages. She's been coming to Rehoboth Beach every summer, staying at her family's cottage, since she was a young teenager.