FlipBuilder launches Flip PDF Plus Pro to convert PDF to eBook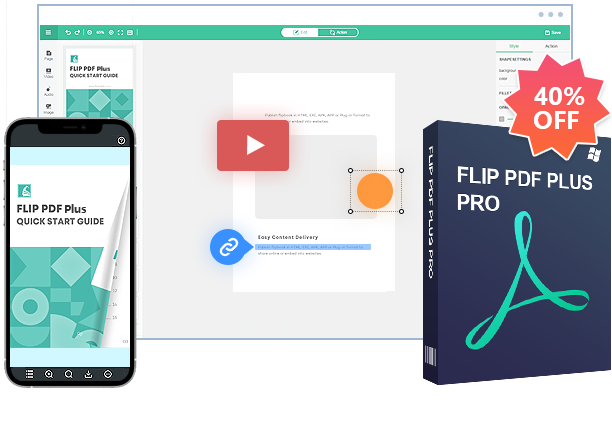 E-books are increasingly popular and often sell better than print versions. Perhaps this is because of the convenience they offer – information or entertainment at your fingertips without the hassle of a physical book. FlipBuilder offers an advanced way to convert PDF to eBook. Flip PDF Plus Pro produces more than a digital rendering of a favorite publication. It gives readers a high reading experience that they just couldn't get from a standard PDF. And this new software comes at an affordable price with a massive 40% launch discount.
With Flip PDF Plus Pro, users can convert PDF to eBook quickly and with professional results. The page flipping effect gives readers the feel of a traditional book. Publishers can add different types of interactive multimedia to make eBooks more engaging. Images, animations, YouTube videos, and audio files help immerse readers in the content. Hyperlinks can also be added to take readers directly to the publisher's website or online store.
Once users convert PDF to eBook, they have access to a powerful editor to personalize their eBooks. Flip PDF Plus Pro comes with a timeline for editing the over 200 animations available. It also allows users to preview animation effects, audio files and videos in the editor. This helps to ensure that the desired results are achieved faster and easier.
Content creators can take advantage of hundreds of templates and themes when converting PDF to eBook. Templates make it easy to configure the eBook toolbar while themes provide different options for the background and color of the eBook. These resources cover most industries, so the software is ideal for all types of eBooks.
Flip PDF Plus Pro supports touch, swipe, and tapping for easy use on mobile devices. Most eBooks are read on mobile devices, so HTML5 output formats ensure that eBooks work seamlessly on mobile devices as well as browsers. EBooks are compatible with Android and iOS. Publishers can use both Windows and Mac to convert PDFs to eBooks.
"I am very proud of the team who worked so hard on this latest software to convert PDFs to eBooks," said Winston Zhang, CEO of FlipBuilder.
For more details, please visit Flipbuilder.
About FlipBuilder
FlipBuilder is an innovative and professional digital publishing platform, providing the best solution to convert static PDF files into a beautiful online flipbook. From design to delivery, we focus on ease of use and power to function. Unlike traditional print publications on paper, you can create a stylish digital magazine online in several steps.