FlipHTML5 Convert PDF to eBook Online with Flippable Pages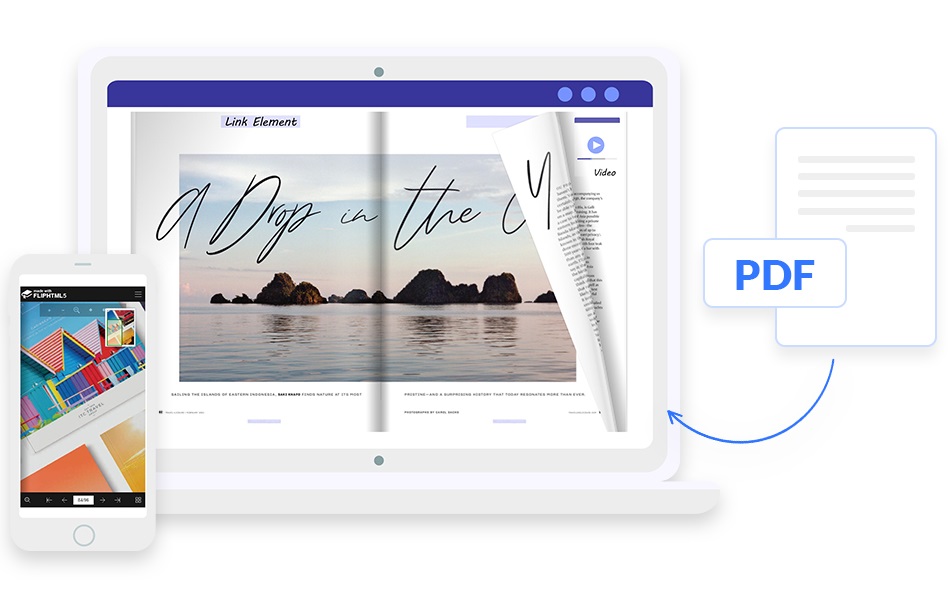 It is easy and efficient to convert PDF to ebook using FlipHTML5. It offers a single platform to create, read, publish and share ebooks online.
Today, people see content differently. Content creators should keep in mind that their audience demands more interesting content and provide it if they wish to succeed. For a long time, PDF was the format chosen to present content. However, technology has evolved and static PDFs are being abandoned in favor of more dynamic means of presenting content. FlipHTML5 is a simple yet effective tool that content creators can use to convert pdf to ebook for a better reading experience.
Content creators are exactly that. Their main goal is to create content that others can consume. They don't want to be bogged down with technical issues or learning how to use an app to convert PDF to eBook. FlipHTML5 is the solution. It automatically converts static PDF files that are uploaded to the interface – no coding or technical skills required. It also provides pre-made templates and themes for faster and easier eBook creation.
FlipHTML5 does more than convert PDF to eBook. It turns the resulting e-book into a living, media-rich document that people will enjoy reading. Pages flip like a printed book, including the sound of pages turning. And writers can add multimedia elements like images, audio, videos, animations, pop-ups and hyperlinks to their eBooks. Readers will be taken on a journey instead of just reading words on a page. And for more technically oriented eBooks, these elements will help readers understand and enjoy the content more easily.
The main reason someone would convert a PDF to an eBook is to distribute the eBook to an audience. FlipHTML5 also acts as a publishing platform. Users can upload their completed eBooks to FlipHTML5 cloud for storage and hosting. From there, they can also host the eBooks themselves on their website. a unique URL is generated for each eBook so it can be shared via email or social media.
Content creators have the ability to sell their eBooks on FlipHTML5 commission-free. They decide the price, currency and other parameters. Proceeds from sales are paid into their specified PayPal account. The platform also provides SEO options to improve search engine rankings and tracking through Google Analytics. There is simply no better way to convert PDF to eBook.
"If you want to convert a PDF to an eBook, FlipHTML5 is the way to go," says FlipHTML5 customer service Jackie Peng.
Learn how to convert PDF to eBook with FlipHTML5.
About FlipHTML5
FlipHTML5 is a convenient way to convert PDF to eBook and does not require any technical skills.
Media Contact
Company Name: FlipHTML5 Software Co., Ltd.
Contact person: Lailie Tan
E-mail: Send an email
Call: 86 020-61972665
Address:Room 1003, 10/F, Tower 1, Lippo Centre, 89 Queensway, Admiralty
Town: hong kong
Country: hong kong
Website: https://fliphtml5.com/