Merriam-Webster Dictionary Definition of Anti-Vaxxer Includes Opposing Vaccination Mandates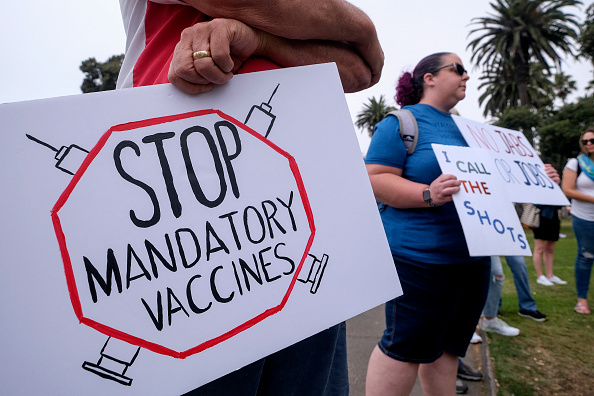 The official definition of an "anti-vaxxer," according to the Merriam-Webster dictionary, includes people who oppose vaccination mandates.
The dictionary's definition of the term, which was updated last month, is "a person who opposes the use of vaccines or regulations requiring vaccination."
The term has been used widely to describe people who do not believe in vaccinations, but has not often been used to describe those who do not agree with the demands imposed by private companies.
Some vaccinated people still oppose employer mandates, arguing that unvaccinated people should not have to choose between the vaccine and their job.
Merriam-Webster said that "anti-vaccination" is used particularly often to describe "a parent who opposes their child being vaccinated".
In an effort to get more Americans vaccinated against COVID-19, more companies and employers are adopting vaccination mandates and the new requirements indicate that the mandates are working.
Health systems, schools, public sector agencies and private companies with vaccine needs have increased vaccination rates among workers to more than 90% in many organizations, according to a White House analysis released on Thursday. .
Comparatively, these numbers are significantly higher than the average rate of fully immunized adults, which is 63%.
President Joe Biden will travel to Chicago on Thursday to promote vaccine mandates for large employers.
"The president's message will be clear: the vaccination requirements are working," White House press secretary Jen Psaki said on Wednesday. "Vaccination requirements allow more people to be vaccinated, which is helping end the pandemic and strengthening the economy. "
Vaccination mandates implemented by United Airlines, New York City schools, the NBA, and major hospital systems have all shown that requiring workers to receive a COVID-19 vaccine is an effective way to increase vaccination rates.
United was the first U.S. airline to tell its employees they needed a vaccine if they were to keep their jobs. Following this August 6 announcement, 99.5% of the airline's workforce has now been vaccinated.
New York City Mayor Bill de Blasio, a leading proponent of immunization mandates, also announced Monday that 95% of staff in public schools in the city have received at least one dose of a vaccine.
A week before the mandate took effect, the vaccination rate among staff in the city's education department was 87 percent.
In September, Biden called on the Occupational Safety and Health Administration (OSHA) to create rules requiring companies with more than 100 employees to mandate weekly vaccinations or tests.
While OSHA is still reviewing the president's request, several large employers, like Proctor & Gamble and 3M, have already imposed vaccine mandates in the weeks following Biden's announcement.
The White House also highlighted the economic impacts of vaccinating more people.
A Goldman Sachs report cited in Thursday's report estimates that increased vaccination rates could lead to a return of up to 5 million workers to the workforce and found that states with higher vaccination rates higher hours also recorded higher hours for employees of small businesses.