Author Kristine Anderson presents her new novel, "Crooked Truth" | New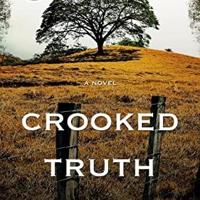 Almost everyone benefits from a good oxymoron – jumbo shrimp, Civil War, family vacations or Greater Cleveland. Most oxymorons tend to be clever and funny, even if they're not always completely accurate. They can also help tell a story.
Dr. Kristine Anderson's novel, "Crooked Truth," is such a title. And it perfectly captures the plot twists of his book with its surprise ending.
Anderson will be the Georgia Writers Museum's "Meet the Author" presenter to be held Saturday, June 11 at 10 a.m. at the Grove Event Center, 252 Swint Ave SE, Milledgeville, GA 31062. This is the Central State's Chapel. The event will take place on the lower level of the Fellowship Hall.
Following the presentation, attendees will have the choice of two tours of Central State by trolley, one at 11:30 a.m. and a second at 1:30 p.m. During downtime, guests can visit downtown Milledgeville for lunch or take a tour of the Old Governor's Mansion, Sally Davis House or Andalusia.
The fee for the Book Talk is $8 per person to help cover costs; the book lecture plus trolley tour is $25 per person.
Anderson is an Atlanta-based writer, educator, and journalist. She got her doctorate. in Communicative Arts from Georgia State University, and worked as a freelance writer for national newspapers and magazines, and taught high school English. She works part-time at Kennesaw State University and Shorter College.
"Crooked Truth" is his first novel. The manuscript received the Ferrol Sams Award for Fiction. The book was also nominated for the Willie Morris 2021 Southern Fiction Award. Anderson was also nominated for Georgian Writer of the Year 2021.
Want a taste of this novel full of suspense? Fifteen-year-old Lucas Webster doesn't mind working in the fields and cutting cotton on his grandfather's farm in South Georgia, but he hates being stuck caring for his Uncle Robert.
Born with Down Syndrome, Robert is 10 years older than Lucas and follows Lucas around like a clumsy shadow. Lucas wants to get out of Crisscross and get rid of his childish uncle, but after his grandfather's death in the spring of 1948, things change.
His grandmother retires in her grief and Alvin Earl, Robert's half-brother, returns to run the farm with his guns and liquor supply. Lucas needs to become more than a reluctant keeper. Tough man, Alvin Earl plans to pull Lucas out of school to work on the farm full-time and send Robert to state asylum.
When a fatal shooting occurs late in the afternoon, Lucas must decide what to tell the sheriff. As he uncovers the ties that can destroy and bind a family, he cannot reveal what really happened to local authorities or anyone else.
If you love a good story that promises lots of surprises, you won't want to miss this special event in this unique setting.