Download our new ebook for free on Modern Exterior Design Practices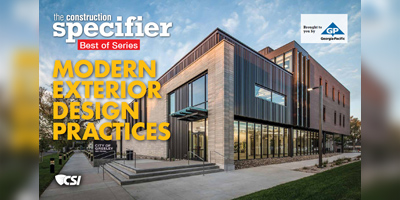 The construction specifier announced the latest volume in its free and downloadable eBook series, a technical discussion of modern exterior design practices.
It examines the variety of siding materials available today, and designers' penchant for combining styles and textures, to illustrate why it is essential to specify building envelope controls that are compatible with multiple siding types.
The curated collection of magazine articles also featured in the ongoing response to the COVID-19 pandemic, industry organizations, such as the American Society of Heating and Refrigerating and Air-conditioning Engineers (ASHRAE ), have posted updated considerations for design and construction professionals. , including airflow strategies and temperature and humidity controls, as well as ventilation and pressurization.
It also highlights how and why building enclosure requirements have changed and how current codes will impact design and construction.
Download the Modern Exterior Design Practices ebook in two different formats – pdf or digital edition – by visiting www.constructionspecifier.com/ebook/georgia-pacific-modern-exterior-design-practices-e-book/.