FlipHTML5 Ebook Creator software creates professional ebooks from PDF files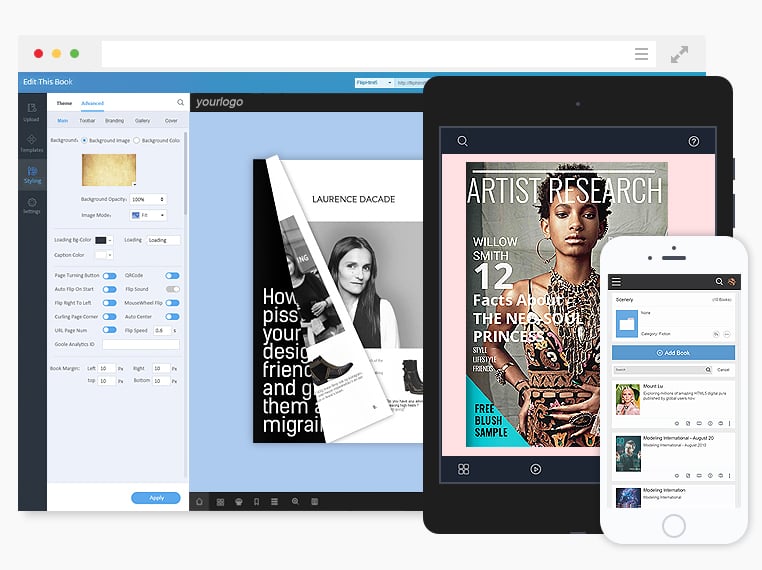 Electronic books are the publication of the future. Flipbooks are more attractive than PDFs. FlipHTML5 is an ideal tool for creating captivating e-books without any technical skills.
The use of e-books has exploded lately. The ability to store and read them on mobile devices makes them more convenient and desirable than bulky printed books. They are also more convenient for content creators and publishers: printing costs are eliminated, distribution is a breeze and without using paper or ink, the environment is preserved. Static PDF eBooks are the standard fare, but FlipHTML5 offers eBook authoring software which produces much more interesting and attractive results.
With FlipHTML5's eBook authoring software, readers will be treated to vivid and stunning eBooks with rich and interactive media. eBook publishers will find the eBook authoring software user-friendly and easy to adapt. No technical or coding skills are required. All you need is a PDF version of the eBook; once the user uploads it to FlipHTML5, it will be automatically converted to web-friendly HTML5 format.
After conversion, the eBook creation software allows users to customize their eBooks to meet their needs and those of their readers. They can add a table of contents and change toolbar settings to simplify navigation and provide a more enjoyable reading experience. FlipHTML5 offers fully customizable templates for e-book layout along with beautiful backgrounds and themes to enhance its appearance. Even a beginner will be able to create an attractive eBook in no time.
Content creators can also augment their content with this eBook creation software. It allows them to add rich multimedia such as images, videos, audio, animations, GIFs and hyperlinks. Not only does this provide readers with an immersive reading experience, but it also opens up a whole new world of possibilities for using eBooks. Publishers can take their readers anywhere and the ability to add hyperlinks makes them suitable for applications such as advertising and sales.
This e-book creation software produces e-books that can be accessed anywhere, on any device. Using HTML5 technology, eBooks are optimized for reading on mobile devices as well as browsers. And they're easy to share via email and social media using a unique URL assigned to each eBook.
"Our e-book creation software is among the best on the market," boasts Winston Zhang, CEO of FlipHTML5.
Get more details about eBook creator software at FlipHTML5.
About FlipHTML5
FlipHTML5 Software Co.Ltd. is one of the world's leading providers of digital publishing software. For many years they have focused on researching and developing an outstanding line of electronic publishing software for users around the world. Also, they offer customized solutions for publishers in different industries.