Libraries Acquire Springer and Palgrave eBook Bundle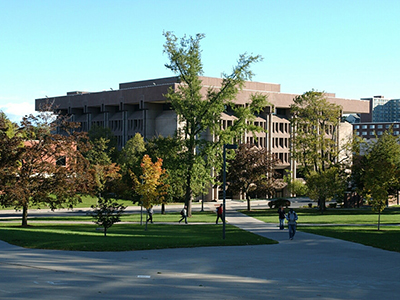 Syracuse University Libraries recently gained access to many new online resources, including a collection of over 134,000 Springer and Palgrave eBooks, as well as the campus' first virtual reality content database, Mindscape. Commons.
The Springer and Palgrave eBook collection, spanning the years in print 1980-2017, is a substantial resource for the campus community that provides parallel online access to tens of thousands of printed books already in library collections and introduces new access to more than 75,000 additional titles. This brings online holdings of Syracuse University's Springer and Palgrave e-books into the top 12% of Northeastern US research universities, tied with holdings of MIT, Boston University , Columbia University and the Rochester Institute of Technology.
The collection includes all English-language research monographs and conference proceedings published on the SpringerLink platform from the full Springer Nature family of imprints, including Springer, Palgrave Macmillan, Plenum Press, Kluwer Academic and others. These titles support teaching and research across the University's curriculum, ranging from humanities, sciences, medicine, engineering, business, education, social sciences and more. Again. The archive complements libraries' current online access to Springer and Palgrave's newly published titles from 2018 through 2022 through the Springer Access and Select acquisitions program.
Mindscape Commons, another recent addition, is the first virtual reality resource in library collections. The use of virtual reality in higher education classrooms is growing in many disciplines, both to provide more immersive learning experiences and to create new experiences that otherwise could not be replicated in a classroom. These can range from physical interactions with archaeological sites or ongoing architectural designs to training counselors and medical students in communication skills. As the university curriculum begins to incorporate emerging educational technologies, libraries are committed to developing collections that continue to support these new educational experiences.
The Mindscape Commons package, published by Coherent Digital, contains virtual reality experiences, apps, games, and videos to support professional training and research in social work, psychology, and mental health counseling. Users can explore most content in Mindscape Commons through a web browser like other library databases, and access an immersive virtual reality experience using a mobile device with Google Cardboard or a Oculus headset. The campus community can explore Mindscape Commons and other virtual reality experiences first-hand using Oculus equipment in the Digital trading area on the 4th floor of the Bird Library, operated by Syracuse University Information Technology Services. For more information on using virtual reality in the classroom, read Start-up stories: Mindscape Commons – how virtual reality helps develop the communication skills of medical students.
The libraries also added several other resources to its collections over the summer for use in fall classes and beyond. The full list of new eBook collections, databases, primary source archives, magazine archives and more can be found on the Libraries Blog New library collections for May and June 2022. For more information on a resource in your subject or discipline, contact a specialized librarian. For other questions or suggestions about the library's collections, contact our Collections Development Librarians at [email protected]
About Syracuse University Libraries:
Syracuse University Libraries provide expertise, information, and tools to students, faculty and staff, alumni, and the community. With more than 4.8 million resource volumes accessible through millions of physical and online visits each year, libraries provide information services, responsive collections, knowledgeable staff, and safe and accessible physical and digital spaces that encourage intellectual exploration. In doing so, libraries enable the creation of new knowledge, catalyze scientific collaboration and cultural exchange, and advance Syracuse University's mission of teaching, learning, and research.